Easily create and manage your AR project
V-Director is web-based and user-friendly content management system (CMS). It offers a simple and intuitive interface where new augmented content can be created in just a few clicks.
Select location or image trigger

Create your content

Publish
Simple isn't it?
Detailed real-time analytics provide insights on the progress of the campaigns. The metrics include:
Number of content view per day and per model

Application downloads

Notification opening rate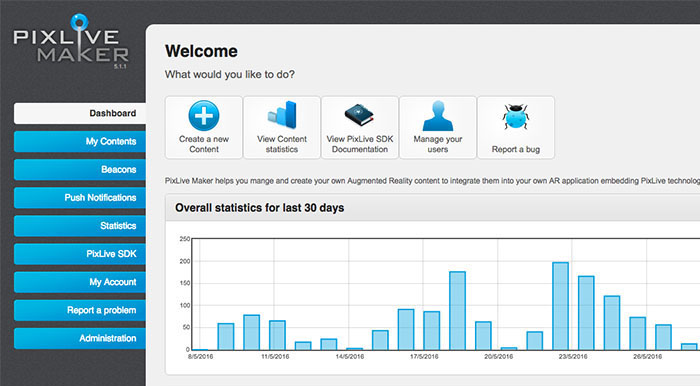 Vidinoti offers a range of pricing options to cater to the different needs, from a free demo option to a fully tailored solution with a branded AR player.
Credits – The pricing is based on credits, where a credit is required to create and publish a single augmented content
Publication – The number of publication specifies the number of content that can be live and accessed by the users
demo
AR PlayerV-Player
Included Credits5 Credits
Additional CreditsNot available
Publication Limit5 contents
Publication Duration24 Hours
SDK License30 Days Trial
indie
AR PlayerV-Player
Included Credits3/month of subscription
Additional Credits€49 for 5 credits
Publication Limit15 contents
Publication DurationSubscription period
SDK License30 Days Trial
pro
AR PlayerBuild your own app!
Included CreditsCustom
Additional CreditsCustom
Publication LimitCustom
Publication DurationCustom
SDK LicenseExtended
Register for free and create your first AR project